Rheumatic Pain
The word "rheumatic" has quite a broad meaning, primarily encompassing problems with joints.
What's the difference between osteoarthritis and rheumatoid arthritis? Whereas we think of osteoarthritis as a more mechanical process of wear, tear, and repair, rheumatoid arthritis is led by inflammation. One hallmark of inflammatory arthritis is that it is worse after rest- waking up with pain that takes more than half an hour to ease can be an indicator of this.
Some other conditions in the same family include:
Rheumatoid arthritis (RA)
Psoriatic arthritis
Ankylosing spondylitis or AxSpA
Early stage rheumatic diseases are easily missed because they act like a number of other conditions. However there are often subtle differences in the early stages that your osteopath will be aware of. If something doesn't seem quite right, we may refer you to your GP for blood tests and other investigations.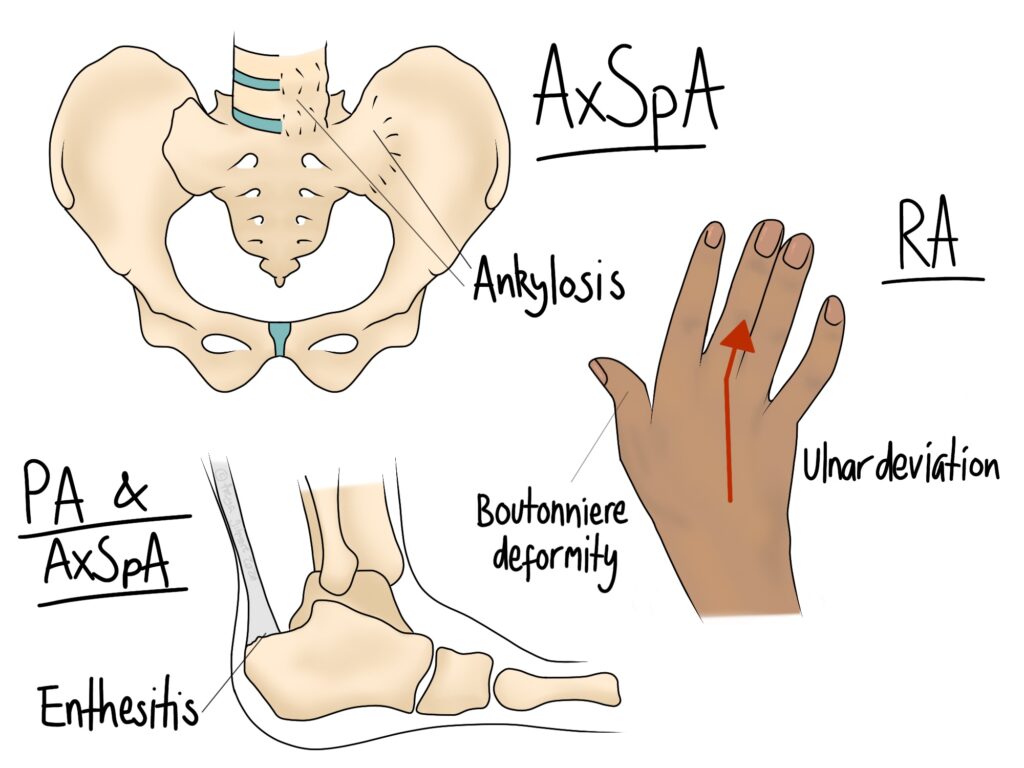 Examples of Rheumatic Diseases
Osteopathy will not cure rheumatic diseases, but it can help to manage the symptoms.
Rheumatoid Arthritis (RA)
One of the better known conditions is RA. Like most of them, it is an autoimmune condition where the body attacks its own joints. There are a few varieties of RA, with some coming with periods of remission.
RA can affect the hands, causing increased bony growth over finger joints and leading the hand to point away from the thumb (ulnar deviation). These are the effects of damage caused by RA and the body's attempt to correct it.
The joints of the spine can also be affected, and this may be one of the first symptoms to show. Your osteopath will be looking out for indicators of RA.
Psoriatic Arthritis
Roughly a third of people with psoriasis will also have psoriatic arthritis. This behaves similarly to RA in that it also attacks the joints and can come and go. Psoriatic arthritis often affects the small joints of the hands and feet, and can come with changes to the fingernails.
PA can also attack the spine. As PA symptoms can start before psoriasis itself does, it can easily be mistaken for another kind of back pain. Your osteopath will look for inflammatory signs and symptoms to find the true cause.
Ankylosing Spondylitis (AS) /AxSpA
AS is poorly recognised but there is progress being made. Its name refers to how it causes fusion of the spine and pelvis (ankylosis). Early symptoms can be quite diffuse, so it can be missed before the late stage when it causes ankylosis. The term to encompass it at all stages is Axial Spondyloarthropathy (AxSpA)
Your osteopath is in a great position to help you get a diagnosis. This can only be made by a rheumatologist but there are tools your osteopath can use to support a hypothesis and help get you referred.
Treatment for AxSpA should be gentle and little but often. You can turn around a painful day with five minutes of treatment, but overtreating can make it worse.
A diagnosis of AxSpA opens the door to strong medications that can slow the disease process.
How can osteopathy help with rheumatic pain?
We can't cure inflammatory diseases but we may be able to help with symptom relief and getting a diagnosis.
Osteopathy can help provide symptomatic relief to the affected joints and help keep the rest of the body working well to accommodate this.
If you need help for your rheumatic pain, book an appointment today.