Sciatica
The sciatic nerve runs from the lower back down the back of the thigh and outside of the calf. Sciatica is a symptom of irritation of this nerve.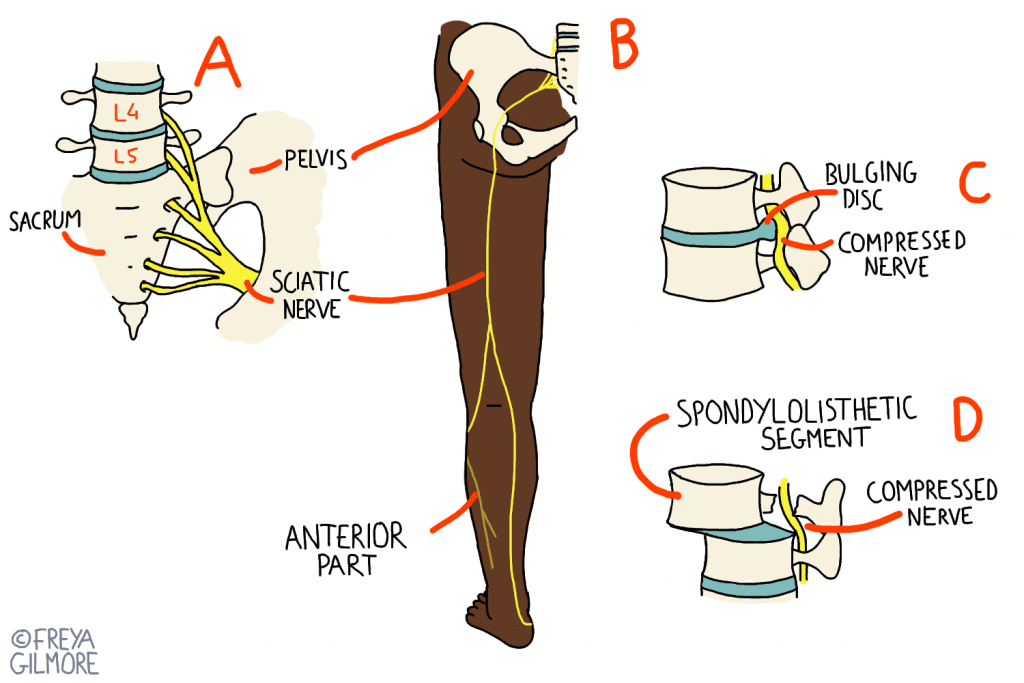 Symptoms
When the nerve is irritated, symptoms can develop anywhere along the length of it. For some people this means pain from the back to the foot, and for others it can be a lot more focal. A sharp, shooting pain in a defined line is a typical symptom of sciatica. This is rarely constant but might be somewhat unpredictable. Pins and needles in the same area, or numbness or weakness are also common.
If the cause is a disc bulge, movements that stress the disc can aggravate symptoms. Examples of this are heavy lifting, twisting, and straining on the toilet. It is important to note that symptoms are not indicators of damage. Nor does intensity of symptoms predict how long an episode will last. Sometimes people with the most debilitating pain are the quickest to recover.
Causes of sciatica
The basic cause of sciatica is irritation of the nerve in the back or upper leg. There are a number of ways this can happen, and sometimes there are multiple causes. Two of the most common are:
Nerve compression in the back due to a bulging disc (diagram C)
Nerve compression in the buttock due to a tight gluteal muscle (piriformis syndrome)
When is Sciatica not Sciatica?
Not all pains in the back of the leg are down to the sciatic nerve.
Hamstrings
The sciatic nerve runs through the same area as the hamstrings, so pain can be mistaken for sciatica when it's not a nerve at all. A simple pulled muscle can imitate the symptoms without any sciatic involvement.
Referred pain
Sometimes the brain misinterprets pain signals and detects pain where it shouldn't be. You may have heard of people having heart attacks but experiencing jaw pain: this is the same mechanism. Nerves cover a broad area, so when a nerve brings a pain signal to the brain, the brain has to work out where exactly the pain is coming from. Heart pain isn't a usual sensation, so the brain thinks the pain must be coming from somewhere else in that nerve's area. One nerve that supplies the heart also supplies the jaw, so the brain makes an educated guess.
The same can happen in the back and leg. Irritated joints in the lower back and pelvis can cause pain in the back of the thigh. This doesn't necessarily mean that anything is wrong with your leg! Your osteopath can work out what's happening and what needs to be done.
Plantar fasciitis
Pain and pins and needles in the foot can be symptoms of sciatica, but when they're isolated to the sole of the foot alone they could be something else. Plantar fasciitis is inflammation of the soft tissues on the sole, unrelated to the sciatic nerve.
Book an appointment today to get on top of your sciatica